Organic Moderism: Denver's Most Alluring Architectural Movement
'Sleeper House' resting below the Rocky Mountains
 'Blucifer' lurking outside of Denver International Airport
Before legal weed and John Elway, the 'Mile High City' and its surrounding geography served as a canvas for those looking to insert the natural beauty of the Rockies into modernist architecture. While most Modernists were ignoring Denver in the 1960s, a few saw the potential of the expanding city, its rising middle class and the stunning natural geography it had to offer. Visionaries from Denver's emerging upper class turned west towards the mountains in order to construct their futuristic abodes by contracting emerging, independent architects.
Charles Deaton's Structured House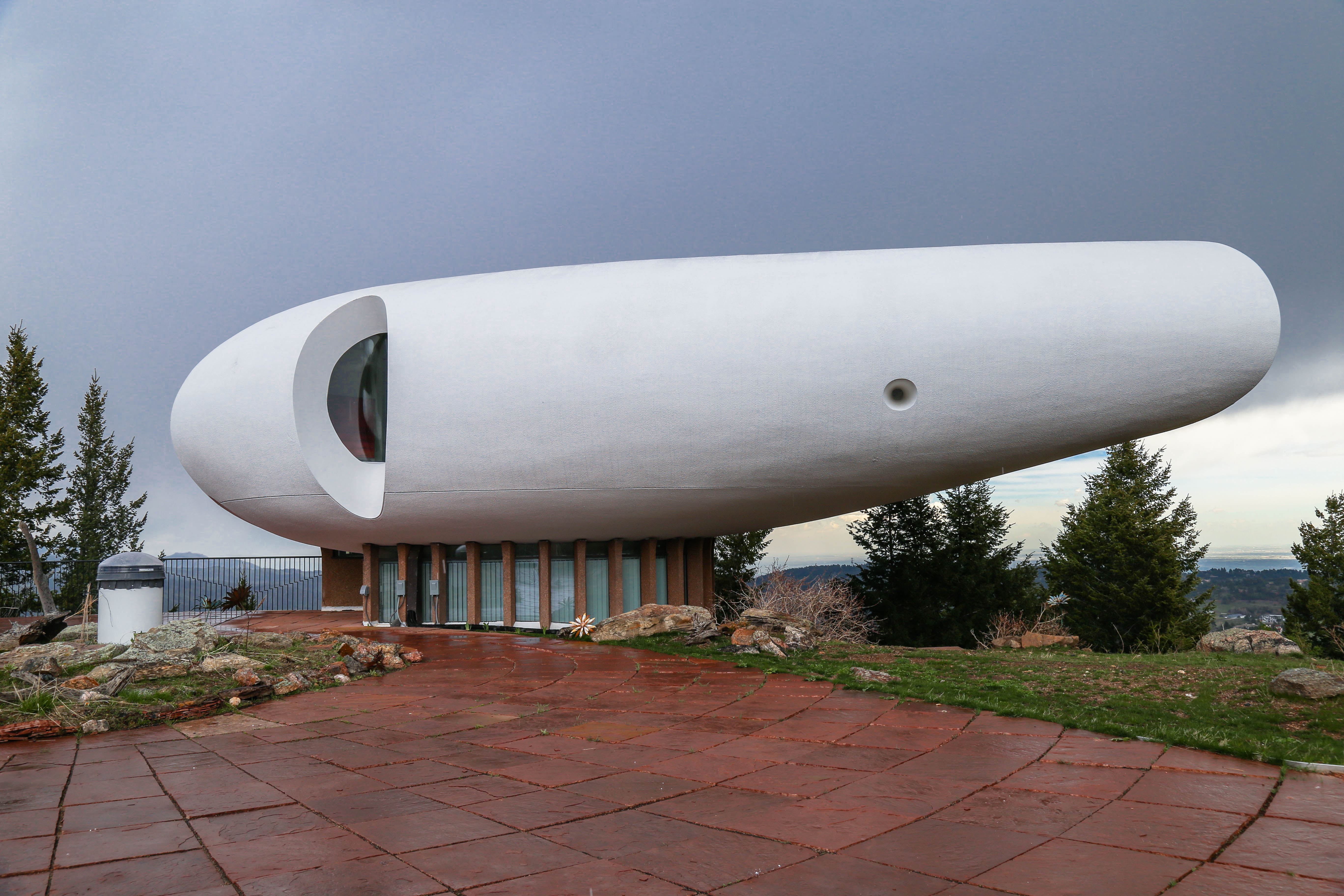 Entrance To the Sleeper House
Bedroom Overlooking the Foothills
Most infamous of the works of this time is Charles Deaton's 'Sculptured House'. Nestled in the foothills above Denver and overlooking Interstate 70 (famous for its ski traffic), the home is considered to be the magnum opus of its creator. The house was designed with zero right angles, featuring a massive, window filled 'spaceship' elevated upon a pedestal. While many find the home to be an eyesore on their weekend ski trips, Deaton defended his design. "People aren't angular, so why should they live in rectangles?"
 Deaton's Original Sketch of the Structured House (1963)
Deaton's Floor Plans
Construction on the sleeper house began in 1963 and continued throughout the entirety of Deaton's life due to issues with its financing. Upon his death in 1996, the home's extension and interior remained incomplete due to a lack of funding. A prolonged legal battle over the design of the Kansas City Chiefs Arrowhead Stadium (which Deaton designed) drained his pockets, leaving the Sculptured House unfinished. The house was later purchased in 1999 and completed in 2003 under the guidance of Deaton's daughter, Charlee.
 Key Savings and Loan/Community Banks of Colorado
Deaton is also responsible for the design of the 'Key Savings and Loan Building' in Englewood, Colorado. Much like the Sculpture House, the building features no right angles and large windows, bringing the building's surroundings inside.
Screengrab from 'Sleeper'
Photo: United Artists/David M. Walsh
Screengrab from 'Sleeper'
Photo: United Artists/David M. Walsh
Most famously, Deaton's work brought national recognition when Woody Allen used the house in his 1973 science-fiction work
Sleeper
(nicknaming the 'Sculptured House' the 'Sleeper House'). The film was shot in Colorado and featured other modern architectural gems such as the National Center for Atmospheric Research (designed by the legendary I. M. Pei) and Charles Haertling's 'Barnacle House', both in Boulder.
 Mesa Building at the National Center for Atmospheric Research, Circa. 1960
Charles Haertling's Brenton 'Barnacle' House
Brenton House
After serving in the Navy, architect Charles Haertling moved to Boulder, Colorado to undertake a teaching position at the University of Colorado. Shortly after arriving in Colorado, Haerting began designing homes across Boulder and into the foothills. Like Deaton, Hartling's love affair with nature was embedded into his work. Aside from immense glass planes and natural materials, Hartling designed many structures after organisms such as mushrooms, barnacles and yucca plants.
Barnacle House Entrance, 1969
Haertling's 'Menkick' House, 1970
Though Deaton and Hearting's works remain some of the most notable architectural sites surrounding Denver, then city's planners and residents never fully embraced their futuristic and organic approaches to design. To many, the mountains casting a shadow upon Denver were bound for the construction of log cabins and A-frames. Nonetheless, these relics of Modernism will forever be studied and discussed, bought and sold, and observed from gridlock ski traffic.
 Woman Taking in the View from the Sleeper House (Before Ski Traffic)
https://www.pinterest.ca/pin/77335318577211075/
http://www.bubblemania.fr/en/charles-utter-deaton-sleeper-house-ca/
https://www.westword.com/news/charles-deaton-creator-of-the-sleeper-house-ten-things-you-should-know-9458177
http://www.thedenvereye.com/the-modern-architecture-of-sleeper/
https://www.pinterest.jp/pin/283234264038175653/
https://www.pinterest.ca/pin/28288303889943630/
http://www.voicesofeastanglia.com/2014/09/brenton-house.html